Store your digital business documents securely!
What is the Vault?
The Vault is a secure storage space where you can upload, organize, and share critical digital business documents (e.g., tax returns and bank statements).
Our Vault enables you to share time-restricted or password-protected access to Vault documents with an enterprise or partner you want to do business with. This means easier applications and faster onboarding! It's a win-win.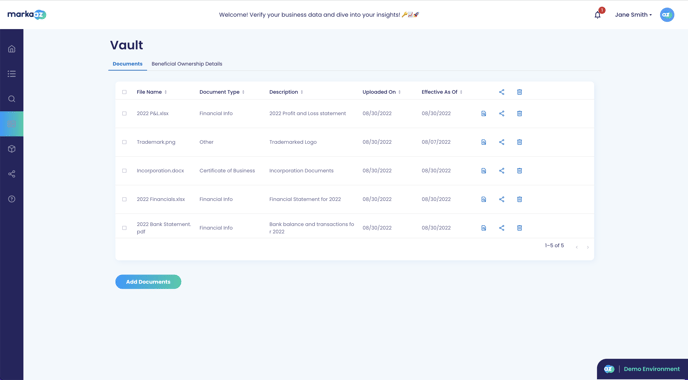 What types of documents can I store in the Vault?
While you can store any PDF, Word, Excel, or image document, it is recommended that you use the Vault to store critical business documents that might be needed to qualify for any service, including a loan, a line of credit, insurance, mortgage, or rental space.
Some examples include:
EIN
Beneficial owner information
Income tax return
Bank statements
Limited Liability Policy
Business Owner's Policy
Director & Owner's Policy
Financial documents such as profit & loss statements, balance sheets, or cash flow statements
Bylaws
Certificate of Business
Standard Operating Procedures
Personal Identification (e.g., driver's license or Passport)
How do I share documents in the Vault?
Sharing documents is simple in the Vault:
Select which documents you wish to share
Set the security method – either a password-protected zip file or time-restricted access
Add the email(s) of the recipients.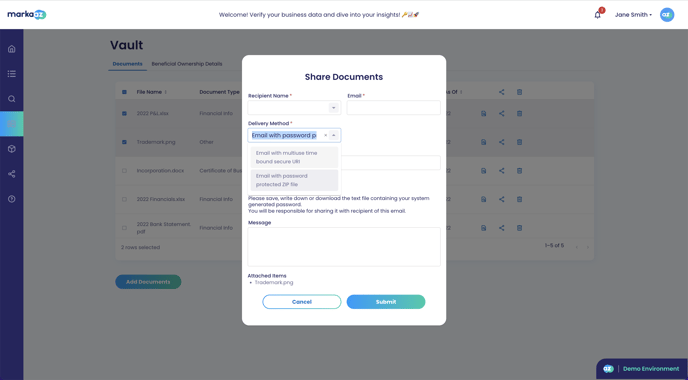 It's really that easy!